Just a 1-minute Walk Away from the Biggest Public Onsen Place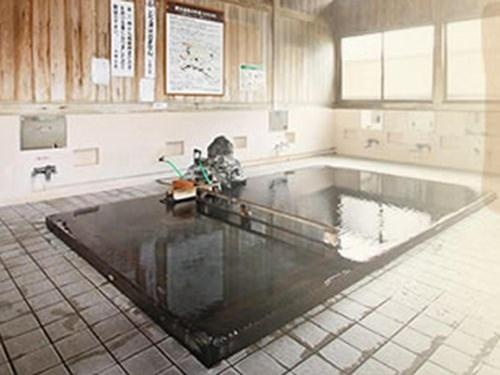 In Nozawa Onsen, we have 13 public Onsen which are shared among Nozawa village from long time ago.
There is one public bath called "Nakao no yu" a 1-minute away from Marunaka Lodge. This is the biggest public bath out of 13 baths, and you can enjoy 2 different temperature hot spring water. Why don't you walk around Onsen town and stop by at Nakao no yu?

Public Bath "Nakao no yu"
The biggest wooden-building public bath. Pulling hot spring water from Ogama. The quality of Onsen, salt and sulfur spring. It is good for skin diseases, rheumatism, gynecology, lead, and mercury poisoning.
Enjoy Various Kinds of Onsen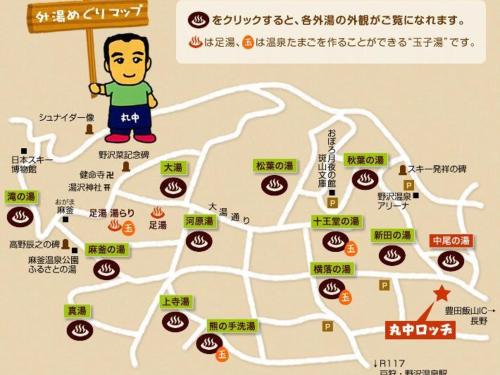 In Nozawa Onsen, there are 13 public hot spring baths.
All of those are using water flowing directly from the hot spring source.
Each of them having different feature and different effect on your body.
Those are free of charge, but a little bit money offering is so much appreciated.
Onsen Map (PDF)
Symbol of Nozawa Onsen, Ogama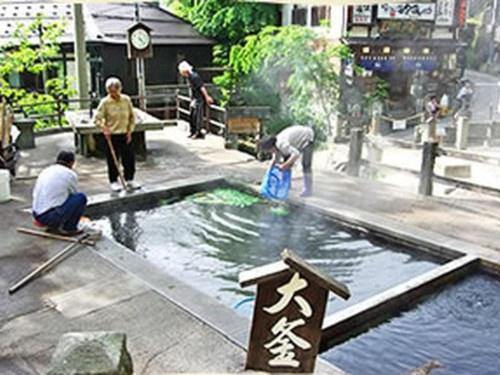 Ogama is a source of hot spring. It is nearly 100 degrees and designated as a natural monument.
You can enjoy watching the scenery that local people are boiling vegetables and eggs, and washing Nozawa's specialty Nozawana.